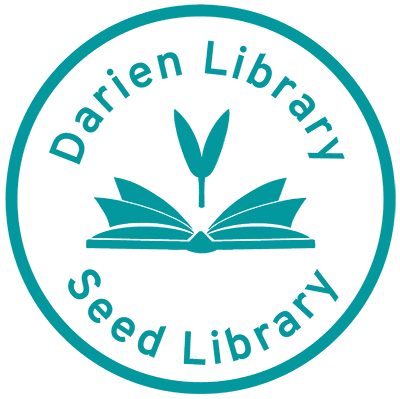 Welcome to Our Seed Library!
Whether you are a seasoned gardener or just beginning to explore your green thumb, our Seed Library offers you the opportunity to plant, grow and learn. It is our mission to increase community awareness of all the benefits that gardening and growing plants from seed have on us all. We hope that the growing process, from seed to plant, will foster a common, shared appreciation of all living things.
Share your gardening experiences with us on social media by tagging us @darienlibrary and using the #LoveMyDarienLibrary on Twitter, Facebook, or Instagram.
How to Take Seeds
Ask about the Seed Library at the Welcome Desk.
Plan on taking 2 seeds for every plant you intend to grow this season. For example, if you want 5 sunflower plants, take 10 seeds.
Note the growing instructions on the back of the seed envelope. If you have a camera on your phone, take a picture of the instructions so you have an extra copy! Please let us know if you need a copy of the planting instructions.
If you need more seeds than what is provided, please use the extra envelopes. Make sure you label your envelope with the seed variety!
Help us determine what to get next season and stay in the know about future gardening events by leaving your name, email address, and the seeds you took.
Seed Library Index
Because our seed collection is constantly rotating, the following index may not represent what is currently available.
African Marigold
Black-eyed Susan
Calendula
Coleus
Coreopsis
Cosmos
Morning Glory
Nasturtium
Sunflower
Zinnia
Cilantro
Dill
Garlic
Marjoram
Black-Eyed Susan
Blue Stem, Tall
Cutleaf Coneflower
Mexican Sunflower
Milkweed Swamp
Mountain Mint, short tooth
Pearly Everlasting
Arugula
Beans
Fava
Green Bush
Lima
Pinto
Pole
Purple
Yellow Bush
Beets
Broccoli
Broccoli Raab
Cabbage
Cantaloupe
Carrots
Cauliflower
Collards
Corn
Cress
Cucumber
Garlic
Kale
Kohlrabi
Lettuce
Batavia
Green Curly
Mesclun
Microgreens
Mix
Red Curly
Romaine
Mustard Green
Okra
Onion
Pac Choy
Parsnip
Peas
Shelling
Snow Pea
Super Snap
Peppers
Bell
Hot
Jalapeño
Long Pepper Blend
Shishito
Pumpkin
Radish
Rutabaga
Spinach
Soybean
Squash
Acorn
Armenian
Buttercup
Butternut
Cocozelle
Delicata
Gourd, Bottle
Hubbard
Patty Pan Summer
Spaghetti
Yellow Summer
Zucchini
Swiss Chard
Tomatillo
Tomato
Beefmaster, Slicing
Black Cherry
Cherokee Purple
Cherry
Chocolate
Grape
Green Envy
Pear, Yellow
Roma
San Marzano
Supersweet 100
Yellow
Turnip
Watermelon