Make an Appointment
Do you need your paperwork notarized? Our Notary Publics are available to notarize your documents free of charge. Please call the Library to schedule an appointment for a notarization at 203-669-5236.
A Notary Public is a public servant appointed by state government to witness the signing of important documents and administer oaths.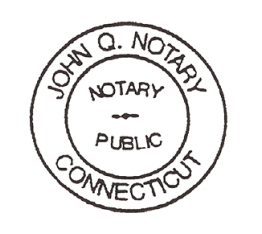 Examples of Acceptable IDs
Valid Driver's License
Passport
Credit Card with Signature
Unacceptable IDs
Social Security Card
Birth Certificate
Before You Arrive
Be sure the documents are complete and ready for signature. Please don't sign the document(s) until you appear before the Notary Public.
If you need legal advice, please consult an attorney. The Notary Public is prohibited from helping you to prepare, complete, or understand legal documents.